Thursday, September 17, 2015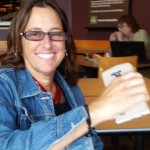 Communications Workers of America Helps Save Jobs 
Verizon Wireless workers in Everett, MA, members of CWA Local 1400, won a significant victory this week in Everett. Several months ago, the union filed an Unfair Labor Practice when the company began unilaterally enforcing the absence and lateness policy more stringently. As a result, many of the workers in Everett began receiving unfair discipline for alleged lateness or absences. The company was forced to settle this charge by removing all discipline from current employees, and putting everyone back down to "zero" latenesses or tardies. Three members were on the cusp of being terminated do to these unfair policies; CWA saved these jobs.
Gil Forero, a Solutions Specialist in Everett and a member of their union bargaining committee said, "This is a big win for us. It shows that they were wrong. If we had never struggled to join the union, we would never have been able to save these jobs."
As part of the settlement the company admitted no illegal wrongdoing. Though for some reason they did find it necessary to undo everything they had done...