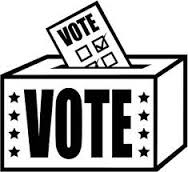 Request a Paper Ballot  Vote & Return the Proxy to Your Local
CWA urges you to vote by paper ballot, rather than by electronic ballot.  Return your paper ballot to your local so that CWA members can deliver the votes at Verizon's annual meeting on May 7th.  If you have not received a paper ballot and you are entitled as a stockholder to vote, please request a paper ballot from the company.  You may do so by calling 1-800-631-2355 or emailing Verizon@computershare.com. 
When you contact Verizon's service, be prepared to insist on your right to your proxy.  If they tell you to contact your 401k fund, ask them if they have your proxy and request that they send it to you.   In order to verify your identity, they may ask for your Social Security number; please be prepared with that information.
 3 Steps to Use Your Proxy to Send a Message to Verizon:
Vote!  Please follow CWA's recommendations.  CWA's voting recommendations are on the flyer.  Please place an "X" in the appropriate box.       
Sign and date the card where indicated.  Place the proxy inside the envelope and seal the envelope.
Get the proxy card inside the sealed envelope to your local by April 24th.  CWA will deliver the proxies to Verizon's annual meeting.